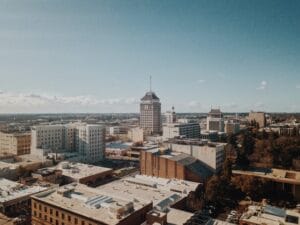 We are so proud that we can work in the most fantastic city in California, namely Fresno! Our mobile mechanics are delighted to work on the citizens' vehicles every day and therefore they are able to serve our local community here in Fresno. Maybe this city is not for everyone, but we just love living and working here and on this page we will let you know a few details about why we find this place so amazing.
Thi city can be found in the triangle of San Jose, Los Angeles and Las Vegas and the current population is close to 540,000. We are not as huge as the cities mentioned before, but this is also a quite significant size!
Fun facts about Fresno, CA:
Fresno was first founded as a railway station and has not been inhabited until 1885.
The name of the city originates from the trees which are growing along the San Joaquin River.
In the second part of the 20th century Fresno grew very quickly in population and we are currently the fifth biggest city in California when it comes to the size of the population.
We are pretty much the center of California when we look at it from a geographical perspective.
We are very enthusiastic about sports, you might have already heard about two of our teams, namely the Fresno Grizzlies and the Fresno Monsters.
The neighborhoods our mechanics are from:
Our favourite restaurants in Fresno, CA:
Castillo's
Mediterranean Grill 
Chef Paul's
Our favorite sights in Fresno:
Fresno Zoo
Underground Gardens
Island Waterpark
Maybe Fresno is not the first city which comes to your mind when it comes to touristic destinations in the USA, but we can assure you that when our friends from other towns are visiting us for a few days, they always have a fantastic time here. This is partially because the folks here are absolutely friendly, but also because there are some hidden gems in the city which makes your stay here very worthwile. If you have not visited Fresno yet, trust us and come here, we will be also very happy to show you around if you do not know anyone who is living here. 
Now let's check out downtown Fresno. 
Here you will find more information about the Underground Gardens!